THE STORY
Need some colour in your life? 🌈 Honestly, so do we!
We asked Lauren, from @laus_healthy_life to explain why it's better when you're eating the rainbow.🍇 As a Naturopathic Medical Student, Lauren learns all about health and wellness and loves to post her own healthy recipes and tips on her Instagram and her blog!
Take it away Lauren!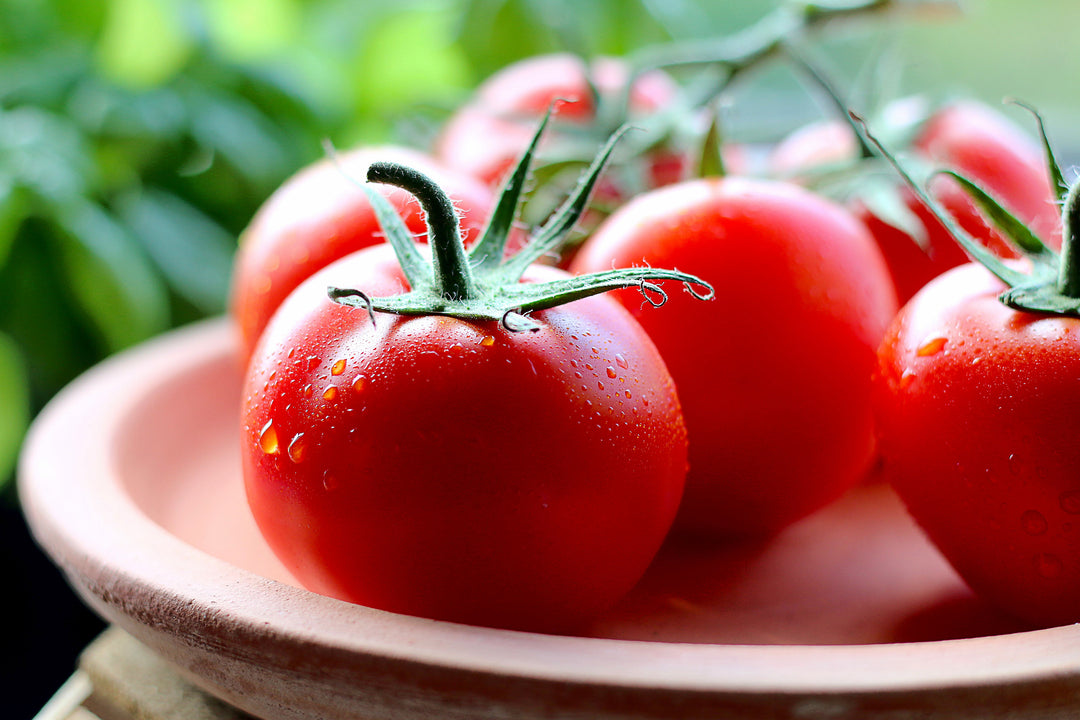 1
RED
Think tomatoes, red bell peppers, radish, rhubarb, strawberries, raspberries, & pomegranate. Where does this red colour come from? It's often from lycopene & anthocyanin. Lycopene & anthocyanin have strong antioxidant abilities, & have been shown to protect against certain cancers, improve & protect your vision & fight inflammation! These veggies pack a punch, so load up!
2
ORANGE/YELLOW
Spaghetti squash, pumpkin, yellow peppers, yellow zucchini, oranges, lemons, carrots, & golden beets. Some of my favourite fruits & veggies fall into this category & for a good reason too! When you see yellow/orange think vitamin C, beta-carotene, flavonoids, zeaxanthin, & antioxidants! Similar to our red coloured fruit & veg the nutrients found in this category can also protect against certain cancers & benefit eyesight! They have also been linked to lower LDL levels (aka the 'bad' cholesterol), & promote healthy collagen formation (since vitamin C, in particular, is needed for collagen to be synthesized in the body).
3
GREEN
Broccoli, zucchini, spinach, swiss chard, dandelion greens, asparagus, brussel sprouts, celery, kiwi, & avocado. These green fruit & veg are full of tons of nutrients but in particular, chlorophyll. This is the pigment in these foods that give them that green colour. A diet rich in chlorophyll can help reduce bad breath & body odor. Along with chlorophyll, green foods, are also rich in many other vitamins & nutrients that can help cleanse the body, increase energy, & fight against illness.
4
PURPLE
The deeper the colour, the more phytonutrients! I am a huge fan of adding beets, red cabbage, purple sweet potato, purple cauliflower, blueberries, & blackberries to my meals or snacks whenever possible. It is believed these nutrient powerhouses get their colour from anthocyanins. Anthocyanins can help reduce free radicals in your body & help manage levels of inflammation as well. Many of these purple foods also contain a flavonoid that you may have heard of, called resveratrol. This is the reason why people argue wine has nutritional benefits! While I do love my wine you will get a lot more resveratrol from just eating the whole fruit or vegetable! Resveratrol may help lower blood pressure & protect against some cancers! So drink your glass of wine but pair it with a handful of blueberries too!
More About Lau!
My name is Lauren (aka Lau)! I studied Naturopathic Medicine in Toronto, but am originally an East Coast Island girl from Prince Edward Island (PEI). I have always been incredibly passionate about living a healthy and fit lifestyle. I know how much my life has changed since I modified my diet & became aware of exactly what I was putting into my body--so my goal is to help others achieve this as well! I am so honoured to partner with such an amazing company like Welo! They represent everything that I stand for & the people behind the brand are absolutely incredible. I am thankful to be connected to a brand that shares similar passions & interests that I do!
Need helping eating the 🌈? Check out these delicious, healthy recipes by Lauren:
Vegan Pesto
Asian-Inspired Salad
Roasted Red Pepper Sauce
Avocado Sea-Salt Chocolate Chip Cookies
Broccoli & Cauliflower Veggie "Nuggets"
Veggie Vegan Alfredo